Just because they shout "Death to Jews!" doesn't mean they're anti-Semitic
The line between German procedural punctiliousness and totalitarian arbitrariness is a fine one.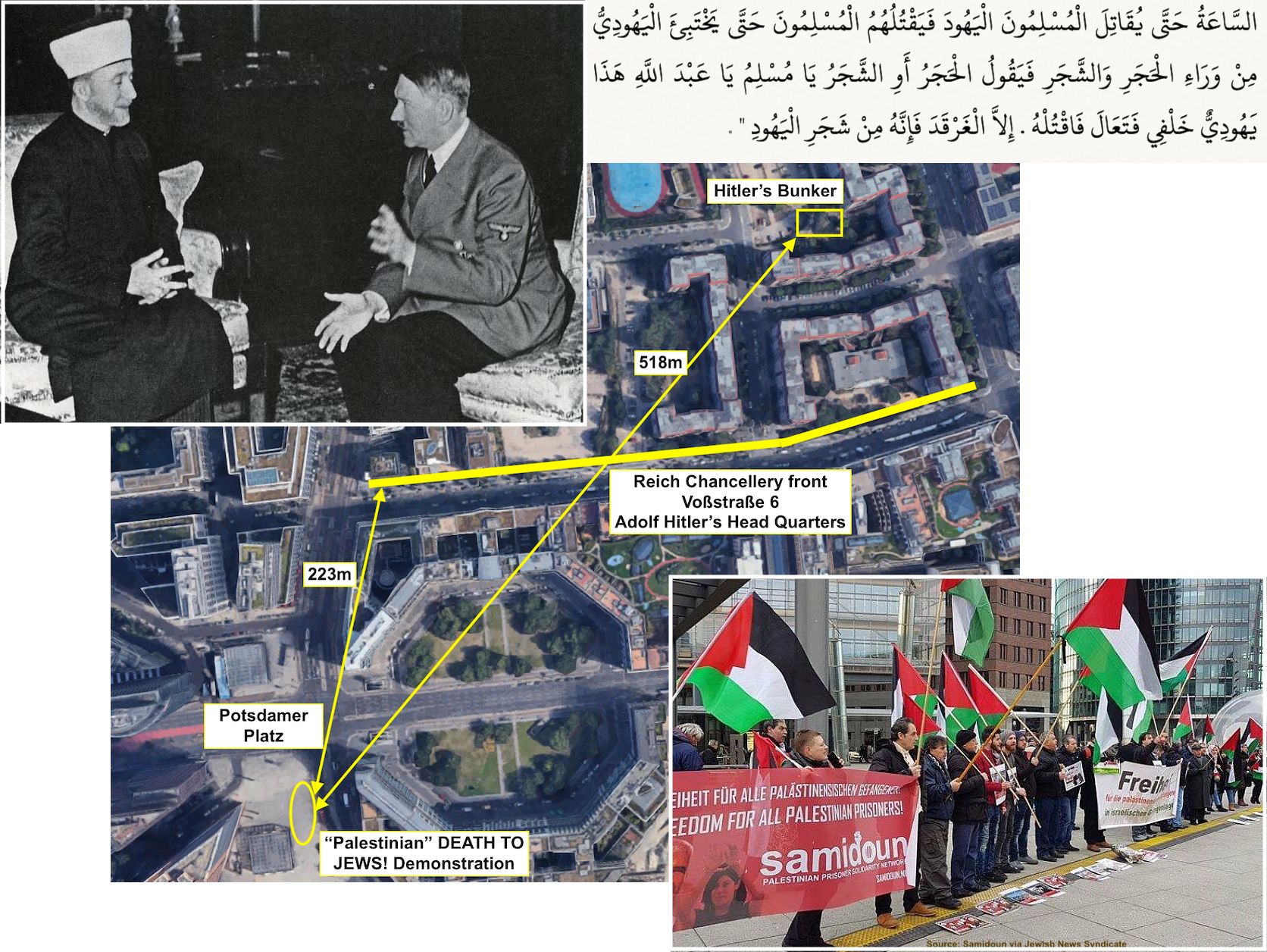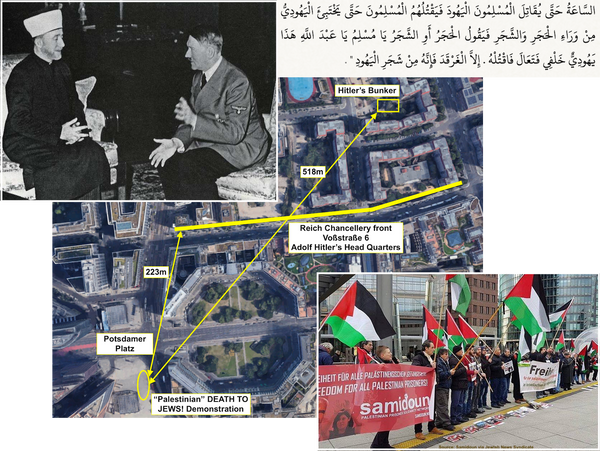 Right from their contrived creation in a KGB meeting room in the 1960s, every excuse has been advanced to place and keep the "Palestinians" on the moral high ground, from helpless little nation under genocidal Jewish attack, to redefining refugees to include all their descendants, to their jihad mass murder of Jews not being terrorism, but "resistance," and to, the best one of all, their burning desire to finish what Hitler had started repackaged as a wish for their own independent state. Under the latter fraud we encounter in Germany the idea that if they're not displaying swastikas, they couldn't possibly be anti-Semitic, let alone Nazis, and it behoves us to be very, very careful, lest we invoke the wrong procedures for dealing with them, or not dealing with them, as the case may be.
These high principles were put to the test on 8 April 2023, when the "Palestinian" terrorist support group Samidoun held a demonstration on the streets of Berlin, during which they chanted, "Death to Jews!" and "Death to Israel!" Helping us weave our way through this delicate matter was the Anti-Semitism Commissioner for Berlin, Samuel Salzborn. Displaying exemplary level-headedness and statesmanship in an interview with Benjamin Weinthal for Jewish News Syndicate (JNS), Salzhorn said:
"The antisemitic character of the gathering…in Berlin is without question, based on the information available."

The protest falls in line with "rallies in recent years where anti-Israel [activities] and antisemitism are associated with open hate speech against Jewish women and Jews in Germany," he added.

"With that in mind, I have asked the Public Prosecutor's investigative authorities to examine issues of criminal law regarding the gathering," the Commissioner said.

When asked whether the state of Berlin will outlaw Samidoun within its borders, Salzborn said that "bans on activities" are the responsibility of the Federal Government.[1]
In Germany, Nazis are recognised by their swastikas, boots and Hitler salutes… and by their anti-Semitism. In Germany, anti-Semitism without the swastikas, boots and Hitler salutes cannot be anti-Semitism. In Germany, one has to be extra careful about condemning people shouting "Death to Jews!" as anti-Semitic, just because they shout "Death to Jews!" One has to look carefully at the information available and ask: are they wearing boots? Are they effecting Hitler salutes? Are they sporting swastikas? If the answers to these questions are 'No', then, clearly, they do not qualify to be Nazis and therefore cannot be anti-Semitic. Das ist ja logisch.
In a classic knee-jerk reaction, the "far-Right" rushed to accuse the "Palestinians" of anti-Semitism merely for standing on the streets of Berlin shouting "Death to Jews!" putting Berlin's hapless Anti-Semitism Commissioner in the awful position of having to answer questions. This is grossly unfair on two counts: not only do the "Palestinians" have no swastikas, boots or Hitler salutes, there is strong historic precedent for shouting "Death to Jews!" in Berlin.
Also, things should not be taken out of context. This being the high season for commemorations, you know, Holocausts and such like, the "Palestinians" are simply reminding the world that they, too, were once big players in the Jew-killing business, dining at the top table with the world's most alpha ultra-bigshot supremo never-to-be-outclassed Jew-killer, brother Adolf himself, right here in Berlin. Yeah!
There's nothing anti-Semitic about "Palestinians" shouting "Death to Jews!" on the streets of Berlin. They're just a misunderstood people longing for the good times, and we cannot find it in our hearts to grant them even that. Shame on us.
As a completely irrelevant aside, the line between German procedural punctiliousness and totalitarian arbitrariness is a fine one, as a lone anti-Samidoun protester found out:
Samidoun's German branch is highly active across the country and the authorities are frequently deferential towards the terrorist entity. In 2020, Israeli violinist Ana Agre, who lives in Frankfurt, mounted a one-woman protest against a Samidoun demonstration. The Frankfurt police issued her a notice to vacate the area due to her Israeli flag and she was ordered to appear for a police interrogation for her pro-Israel activity.

When she asked a police official in Frankfurt why she was not allowed to display an Israeli flag, the officer responded: "Because I don't like it."
And so what about that Federal Government responsibility, then? JNS went after them, too. According to Ministry of Interior and Community spokesman Björn Bowinkelmann:
"We ask for your understanding that the Federal Ministry of the Interior and Community generally does not comment on deliberations regarding a possible ban, regardless of whether there is reason for such deliberations in individual cases."

Bowinkelmann added that "the Federal Ministry of the Interior handles it this way because otherwise there would be a risk that those potentially affected would act accordingly and the effectiveness of operational official measures could be impaired or thwarted."
When Bowinkelmann so humbly "asks for your understanding," he must have in mind the insufferable Rabbi Abraham Cooper, who just won't let this "Death to Israel" thing go.
Rabbi Abraham Cooper, the associate dean at the Simon Wiesenthal Center, told JNS, "I raised the issue of the 'Death to Israel' chants on the streets of Berlin etc. with Ministry of Justice on that day and at other anti-Israel demonstrations years ago. Nothing has changed. Fighting antisemitism is hard work, but to be effective there must be consequences for those who publicly shout threats not heard on the streets of Germany since the Nazi Third Reich."

Cooper continued, "We appreciate the various initiatives announced to combat antisemitism, but of even greater importance is arresting and prosecuting 'Death to Israel' protesters. Without it, the mainstreaming of Jew-hatred in German society will only continue to expand, with potentially dire results. If history taught us anything, it is that the words taught and uttered in the 1930s in Germany set the stage for the Shoah."
That's where the Rabbi gets things wrong. Those were Nazis – they had swastikas, wore boots and did Hitler salutes. With such a lack of understanding, "the effectiveness of operational official measures could be impaired or thwarted," you know, like at the Munich Olympics.
---
Notes:
Benjamin Weinthal, "Chants of 'Death to Jews' at Samidoun Berlin march spark calls to ban NGO," in Jewish News Syndicate, 17 April 2023. https://www.jns.org/chants-of-death-to-jews-at-samidoun-berlin-march-spark-calls-to-ban-ngo/?utm_source=Middle+East+Forum&utm_campaign=4caa16c9df-MEF_weinthal_2023_04_19_12_45&utm_medium=email&utm_term=0_086cfd423c-4caa16c9df-[LIST_EMAIL_ID]&goal=0_086cfd423c-4caa16c9df-33671453&mc_cid=4caa16c9df