Have my wife! Have my horse! Have my Kingdom, too! Part 1
This series looks at two speeches by the then Prince of Wales, and at Muslims squeezing some celebrity product endorsement out of King Charles III's accession. Alas, such Grade A endorsement offers Muslims little more than the hope of salvaging what's left of their self-destructing perfect religion.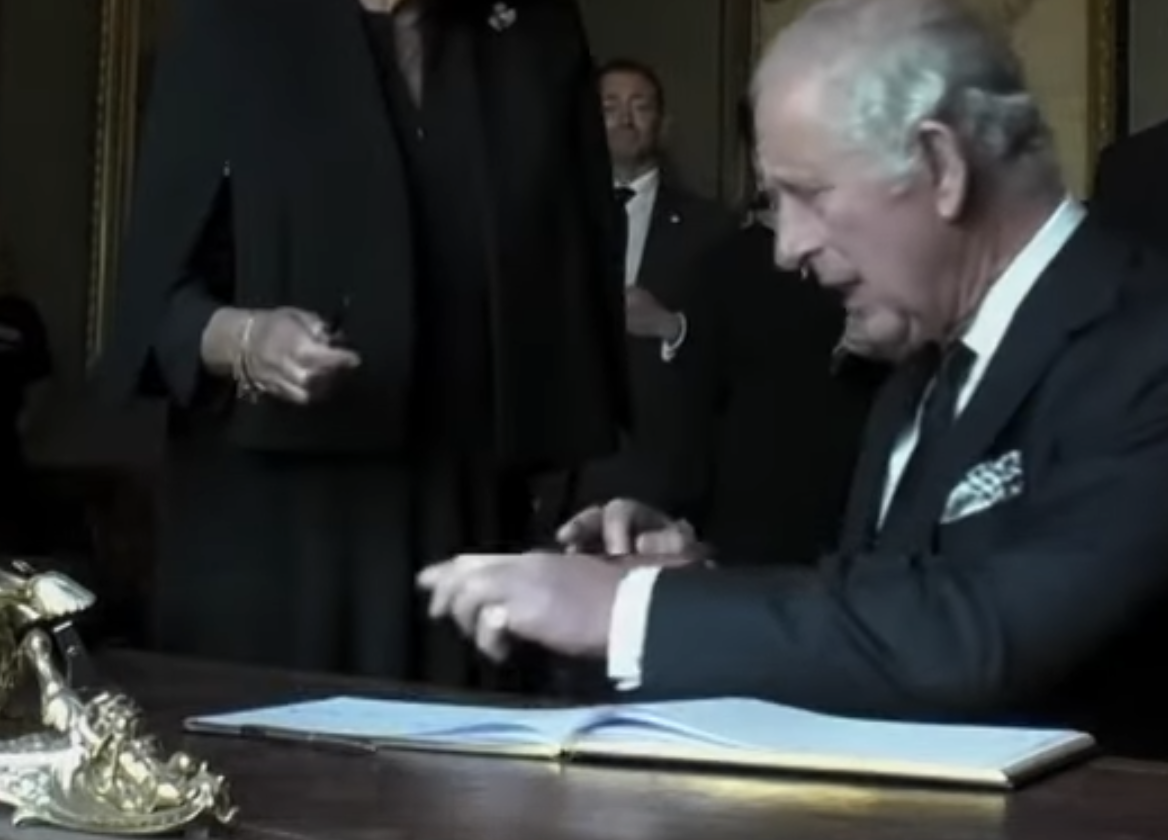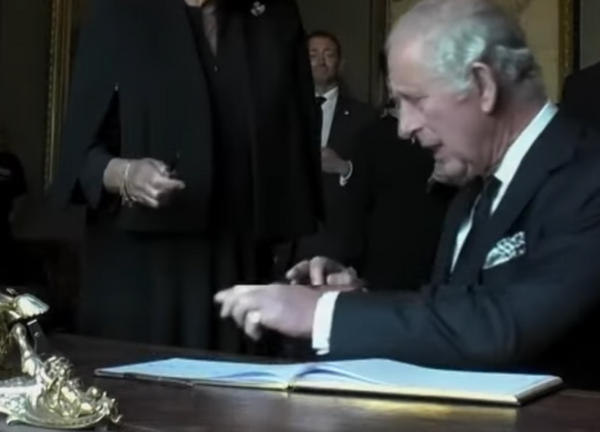 Martin Bashir: Do you think the Prince of Wales will ever be King?
Diana, Princess of Wales: I don't think any of us know the answer to that. And obviously it's a question that's in everybody's head. But who knows, who knows what fate will produce, who knows what circumstances will provoke?
Bashir: But you would know him better than most people. Do you think he would wish to be King?
Diana: There was always conflict on that subject with him when we discussed it, and I understood that conflict, because it's a very demanding role, being Prince of Wales, but it's an equally more demanding role being King.

And being Prince of Wales produces more freedom now, and being King would be a little bit more suffocating. And because I know the character I would think that the top job, as I call it, would bring enormous limitations to him, and I don't know whether he could adapt to that.
Bashir: Do you think it would make more sense in the light of the marital difficulties that you and the Prince of Wales have had if the position of monarch passed directly to your son Prince William?
Diana: Well, then you have to see that William's very young at the moment, so do you want a burden like that to be put on his shoulders at such an age? So I can't answer that question.
Bashir: Would it be your wish that when Prince William comes of age that he were to succeed the Queen rather than the current Prince of Wales?
Diana: My wish is that my husband finds peace of mind, and from that follows others things, yes.[1]
It was an early victory and an inauspicious sign. A son of Muhammad bedded the wife of the cuckolded future king Charles. No good would come of it. There was an earlier king, Richard, also third of this name, who is said to have offered his kingdom for a horse. For his troubles, that king was posthumously cancelled. This newly-enthroned king, Charles, is giving up his horse, giving up his kingdom, and cancelling himself, all the while keeping that terribly sad face as his Royal Seal.
Meanwhile, at his kingdom's highest seat of learning, the University of Oxford, another son of Muhammad, one of extremely unsavoury background, character and intent, was appointed to a prestigious Chair, only to later be confined to the cells for having violated women, although it has to be said in his defence, he did so strictly in accordance with his religious entitlement. And it is at that same university that the new king serves as Patron of a centre to promote the very religion that entitled the now disgraced professor to the gross moral turpitude he made himself guilty of. The fallen professor's brothers and sisters in faith have been at war with the kingdom for some time, and strive for nothing less in the land, than the usurpation of the throne and the enslavement of the King's subjects under the alien law of which the professor was an enforcer. Muslim chronicles tell a different tale.
In understatement untypical for a Muslim, Anisa Rashid comments on King Charles's Islam and the West speech on the Islam21c website, "The new king's appreciation of Islam [and] ...his positive attitude towards Islam ...[are] undoubtedly appreciated by Muslims." 'Appreciated' is not quite the word I would use to describe Muslim responses to infidel endorsements of their religion. 'Clutched at' yes, 'grabbed' certainly, 'seized' for sure, 'pounced upon', 'broadcast', 'trumpeted', 'shouted from the rooftops', etc., all more accurately capture the fervour than 'appreciated'. Muslims don't do 'appreciate.' If the king's words were merely appreciated, there would be no reason for Dr Salman Butt, Chief Editor of Islam21c, to warn:
It's good to celebrate positive news, but important not to fall into some traps, such as using events like these as a plaster to cover over a weakness that we might feel: requiring validation from a powerful or famous non-Muslim. If we do feel that, we need to take a step back and build our appreciation for Islam with knowledge and, more importantly, good deeds; since ibādah increases our intelligence and reflective capabilities, and strengthens our īmān and character."[2]
Oh, but they do feel that, sir, they feel it ever so keenly, for they crave that validation, sir. Yes, they do. Only a couple of months have gone by since the infidel double-crosser Dr Jordan Peterson listened so respectfully to several Muslim "thinkers" (his word), that they were convinced he would "revert" to Islam before the muʾadhdhin sang. In fact, so confident were those Muslims that they publicly flaunted their chickens. The howls of derision and disappointment when Dr Peterson finally turned around and threw down the gauntlet to Muslims to act as they claim, delivered with such caustic disrespect that it made their heads spin. Oh, they did not like that, Dr Butt, they did not like that one little bit. They had been played. They had been played by a kafir. For a moment there, I admired Jordan Peterson.
But one of the first to reach for the king's speech, three days before Anisa Rashid, just two days after Charles became king, was "revert" Paul Williams of the Blogging Theology YouTube channel. Paul Williams and King Charles are of the same fleece. As bleats the Sovereign, so bleats the subject. From the Islam and the West speech, Williams concludes,
I am not saying King Charles is a closet Muslim, but he is clearly literate in some aspects of Islamic thought and metaphysics. ...I am also not suggesting that Muslims as Muslims should back the new king. My intention ...is simply to give a glimpse of what he thinks about Islam, so Muslims in the U.K. can decide for themselves how best to engage King Charles III in dialogue and discussion, insha-Allah.[3] My emphasis.
"I am not saying King Charles is a closet Muslim," but he sure hopes he is; which Muslim does not? If they went nuts over Cat Stevens, over Sinead O'Connor, and over every other troubled soul who hit rock bottom in their lives and there, in the muck, found Islam attractive, then Muslims may yet get lucky. King Charles might just be troubled enough to go over that edge, for as his former wife expressed, "My wish is that my husband finds peace of mind." To find peace of mind in Islam, a death cult of violence and depravity on steroids, in other words, a religion of peace, you would have to be pretty far gone, and ready to believe anything.
In Part 2, we take a detailed look at Islam and the West, and at Anisha Rashid and Paul Williams's responses to it.
---
Notes:
Excerpt from the BBC1 Panorama interview with Diana, Princess of Wales, November 1995. https://web.archive.org/web/20110304163240/http://www.bbc.co.uk/news/special/politics97/diana/panorama.html
Anisa Rashid, "King Charles III and Islam," Islam21c, 13 September 2022   https://www.islam21c.com/news-views/king-charles-iii-and-islam/
Paul Williams, "King Charles III's attraction towards Islam," Blogging Theology, YouTube, 10 Sept 2022 https://youtu.be/1JE0WCVJbNg