Austria: Mosque found to be hub for jihad terrorist recruitment
A mosque is not a place of worship. It is a recruitment and operations centre. A madrassa is not a school. It is an indoctrination centre. We have to start from what things are, not from what we imagine, or would like, them to be.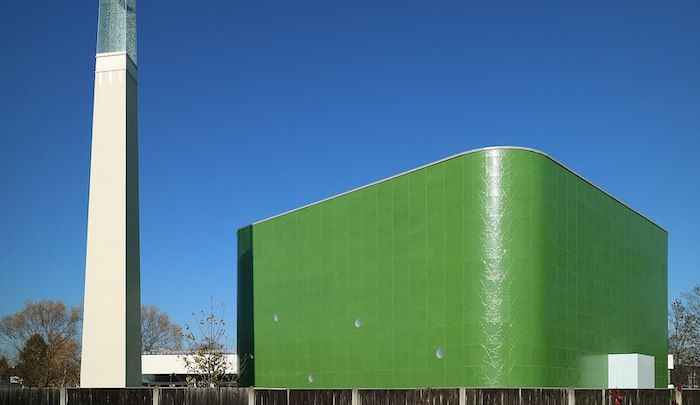 By Robert Spencer. Cross-posted from Jihad Watch, 15 September 2022
Why didn't the Vast Majority of Peaceful Muslims rise up and throw out the Islamic State recruiters, and remind the congregation that Islam is a religion of peace that has nothing whatsoever to do with terrorism?
"Graz mosque as a hub for terrorist recruitment," translated from "Grazer Moschee als Drehscheibe für Terror-Rekrutierung," Puls 24, September 9, 2022 (thanks to Medforth):
A trial against a group accused of radicalizing youths and young adults in a Graz mosque in order to recruit them as fighters for terrorist organizations began at the Vienna Criminal Court on Friday. Fourteen accused have to answer for their crimes on 19 days of trial, a verdict will not be handed down until October.

The accused, aged between 23 and 56 – mostly Bosnians and Austrians – were all active in the Furkan mosque in Graz and held various management positions in the association founded for this purpose, such as chairman, treasurer or secretary. In the course of their activities, they allegedly persuaded young people to go to Syria as IS fighters or prepared them for this. They are charged with membership of a terrorist organisation, membership of a criminal organisation, financing of terrorism and anti-state connections, which is why they have now been tried before a jury. The 400-page case from Graz was delegated to Vienna because Facebook postings were decisive. Thus, it is a media content offence and the Supreme Court decided that the Vienna Regional Court for Criminal Matters has jurisdiction. The defendants, who are all at large, pleaded not guilty.

The 51-year-old main defendant founded the Furkan mosque with three other defendants in 2008. According to the indictment, five of the accused decided that the mosque would become one of the locations and bases of terrorist organizations – from 2012 to the end of 2013, the terrorist organization "Jabhat al-Nusra" was supported, and from 2014, the "Islamic State." According to the prosecutor, the aim was to establish a worldwide caliphate based on radical Islamist principles under the rule of the IS on the basis of Sharia law.

The five men are said to have organised the life of the association accordingly. With relevant talks, lectures and the sale of propaganda material, interested people were to be recruited. The first step, according to the prosecutor, was to distribute Qurans in order to recruit new members. Radical preachers were also invited to Graz, including the already convicted former "hate preacher" Mirsad O. He is to testify in the trial. According to the prosecution, the premises of the mosque were even made available for physical training in order to prepare for military training.

Soon, according to the indictment, the lectures were offered in several languages in order to reach more people. A witness reported that it was always emphasised "how beautiful and important" it was for Muslims "to fight for Islam and die as martyrs". People who went on jihad were therefore "highly respected".

In her opening speech, the prosecutor emphasised that, according to the Office for the Protection of the Constitution, 334 people had left or wanted to leave Austria from 2012 to 2020 to go to jihad. 104 are still in the combat zones, 72 had been killed in action, 95 came back and some of them have already been convicted of terror offences, and 63 could be prevented from leaving the country. 65 per cent of the jihadists are 18 to 25 years old, and the Furkan mosque is also said to have mostly targeted young Muslim men and women. 17 of them managed to leave the country, nine others were prevented from doing so.

Also accused is a brother and sister whose brother had worked as a "Sharia police officer" in Syria and had been killed in combat. The now 23-year-old woman came into contact with the mosque as a 14-year-old. She not only wanted to marry an IS fighter herself and go to Syria, she is also said to have recruited other "IS brides" among her relatives and acquaintances. A friend of hers could only be prevented from leaving because her parents learned about it and hid her daughter's papers.

A 32-year-old woman – the daughter of a founding member of the mosque – is also accused of having recruited members in the rooms of the association reserved for women and of having asked them to marry IS fighters or to go to war with their husbands.

The other accused are IS fighters who prepared for the jihad respectively their families who are said to have supported the terror organisation morally and financially. Among them is also a doctor from Graz who wanted to go to war while still a medical student. His father stopped him with a trick: He should finish his studies first, because in Syria he would be more important as a trained doctor. Therefore, the attempt remained.

According to current plans, a verdict will be reached on October 14.